Organizational Profile
Hong Kong Air Cadet Corps (www.aircadets.org.hk) is a uniformed group under the policy aegis of the Home and Youth Affairs Bureau (民政及青年事務局). A registered charitable body and a member organization of the Hong Kong Community Chest, we offer quality aviation education programmes to prepare young people for possible future service in the local Aviation Industry, thereby contributing to the economic well-being of Hong Kong. With strong support from the Aviation Industry, the community at large, and our strategic partner, the Hong Kong Aviation Club, we are currently providing our 3,263 cadets and 1,588 adult members:
| | |
| --- | --- |
| (a) | Up to 110 twenty-minute helicopter air experience flights for members each month in advanced modern helicopters such as Eurocopter EC120B and Robinson R44, flown by our squadron of volunteer pilots (Operations Falcon, Flying Eagle, Pegasus, Phoenix and Fennington); |
| (b) | Three full Private Pilot License scholarships with training conducted at Tayside Aviation, Scotland, jointly with the Guild of Air Pilots and Air Navigators (GAPAN); |
| (c) | Six 10-hour fixed wing flying scholarships jointly with the Cathay Pacific Airways, the Polytechnic University, and the General Flying Service Flying School of Melbourne (flight training agency of Hong Kong Civil Aviation Department Air Traffic Control Officers); |
| (d) | Two 10-hour helicopter flying scholarships (jointly offered with the Becker Helicopters Flight Training School, Australia and the Cathay Pacific Airways); |
| (e) | Seven glider aviator scholarships up to solo standards offered in collaboration with the Auckland Gliding Club (Operation Swift) and the United Kingdom Air Cadet Organization; |
| (f) | Annual Private Pilot License (Aeroplane) Ground School programme for 80 members jointly offered by the Cathay Pacific Airways, the Polytechnic University, and the General Flying Service Flying School (Advanced Aviation Education Programme - AAEP); |
| (g) | Annual Private Pilot License (Helicopter) Ground School programme for 50 members organized jointly by the Cathay Pacific Airways and the Becker Helicopter Flight Training School, Australia Advanced Aviation Education Programme AAEP(H); |
| (h) | The Cathay Aviation Certificate Programme for 40 members and non-members (jointly organized with the Cathay Pacific and Cathay Dragon Youth Aviation Academy, and the Scout Association of Hong Kong); |
| (i) | Aeromodelling Training Programme for 120 members conducted at our HQ Technical Workshop and the Tseung Kwan O Aeromodelling Base; and |
| (j) | Powered Parachuting experience for 120 members conducted in Mainland China. |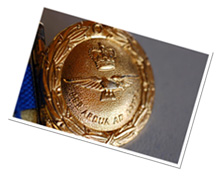 Air Cadets in the 1980 are now Captains and First Officers of wide bodied jets of local airlines, as well as Senior Pilots of the Government Flying Service (GFS). A full one third of the GFS aircrews are present and former air cadets.

In addition to Aviation Education, the HKACC also organizes non-formal education programmes such as adventure, citizenship and disciplined training. Our smart looking and highly disciplined honour guards were tasked by the HKSAR Government to be the first to greet Major General YANG Liwei, China first astronaut, in 2003 and the National Olympic Team Gold Medallists at the Government House in 2004. Our progressive leadership training programme breeds young people with a strong sense of commitment to Hong Kong and the Motherland. An example of the kind of patriotic civic events at which HKACC frequently assumes a pivotal role is the May Fourth Youth Parade, held every year since 2005 to commemorate the historically significant youth movement which took place in Beijing in the year 1919.

As an Agency Member of the Hong Kong Rifle Association owning five sports rifles, we provide regular firearms and marksmanship training to members, and by so doing we hope to improve the hand-eye coordination of our members to better prepare them for possible future service in the Aviation Industry.

The multi-faceted programmes of the Corps were planned, coordinated and carried out by 1,588 adult volunteers from all walks of life, many of them professionals such as pilots, aircraft engineers, air traffic controllers, business executives, doctors, disciplined force officers, lawyers and nurses, whilst day to day operations are driven by a small but dedicated cadre of six full-time and two part-time headquarters staff.

Over the past thirty-nine years, HKACC has been striving to do its very best to nurture manpower resources for Hong Kong. The Corps is most grateful for the unflagging support of the Government, Community and Aviation Industry all along, without which the achievements we are able to reach today would never be possible.
September 2010



Memory Lane
The Hong Kong Air Cadet Corps (HKACC) came into existence on 7 April 1971 when a group of air-minded citizens, local and expatriate, joined together to form a volunteer organisation to foster the qualities of good citizenship and moral character among local young people through a structured syllabus of Aviation Education and Leadership Development.

Let us take a trip down memory lane. Historical pictures on the Corps of different periods will be uploaded to this site from time to time.





Vision

HKACC seeks to sustain and enhance its excellence as the premier aeronautical minded youth organization to serve the Hong Kong community.


Mission

HKACC is committed to serving the Hong Kong community by constantly endeavouring to -




(a) Develop the qualities of leadership, self-reliance and initiative;

(b) Develop character, good citizenship and a love for home country;

(c) Develop an interest in aviation in general; and

(d) Encourage members to have an active interest in aviation throughout their life.




Value

Largely by voluntary efforts, HKACC is committed to upholding the following values
as its guiding spirit




Honesty, Justice, Tolerance, Discipline, Initiative and Loyalty